A Busemeyer University assistant professor and student have died after a house party gone bad Monday night.
Busville police report three people were found in cardiac arrest in the basement of 1704 Casper Drive. They were taken to Busville Hospital, where they were pronounced dead of apparent drug overdoses.
A press release from the hospital identifies the deceased as 72-year-old assistant art professor William Houser, and 20-year-old BusU student Bugs Meany.
According to University spokesman Jon Smyth, Meany was the president of the Lambda Pi Eta fraternity before its charter was revoked last semester for violations of the school's alcohol and party policy.
Sarah Ashcroft, 44, an associate professor in the philosophy department, was also taken to Busville Hospital. She is in stable condition, and is expected to survive.
Police were originally called to the house for reports of a loud party. The house in question is university-owned and was the former Lambda Pi Eta fraternity house, but is now being used as a student residence hall.
Police discovered several types of drugs and alcohol at the scene.
In total, 85 people were arrested at the party, at least 45 of them students at Busemeyer University. Most have been charged with possession of alcohol by a minor, but Busville Police say that some will face additional drug charges.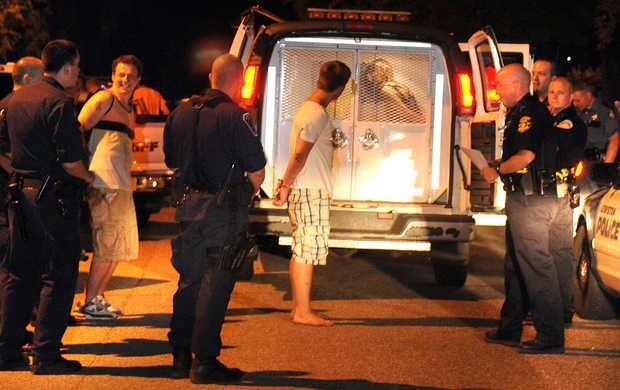 A photo tweeted by a Bus U student at the party shows police making arrests.
In a release late Monday night, BU President Stephen Busemeyer said, "The University revoked LPH's charter last semester for excessive partying in violation of the school code. The new occupants of the house at 1704 Casper Drive promised that they would forbid alcohol and gatherings of more than three people in any one room of the house. Clearly, they failed, and two people are dead because of it. Alcohol is hereby banned at all campus buildings and events. Anyone caught with alcohol will be expelled. Needless to say, anyone caught with drugs will be expelled and fully prosecuted."
Smyth says that there is a policy in the University handbook stating that students should not interact with their professors outside of school business, and it is not clear yet why the professors were at the party.
Busville Mayor Biff Wellington stated that Busville police told him both Meany and Houser died of methamphetamine overdoses. Wellington said there had been dozens of incidents involving methamphetamine in Busville in the past year.
"The scourge of methamphetamine in this town must end," Wellington stated late Monday night. "I am calling tonight on the city council to authorize the police department to conduct searches of every residence in city limits and smash all meth labs they can find."